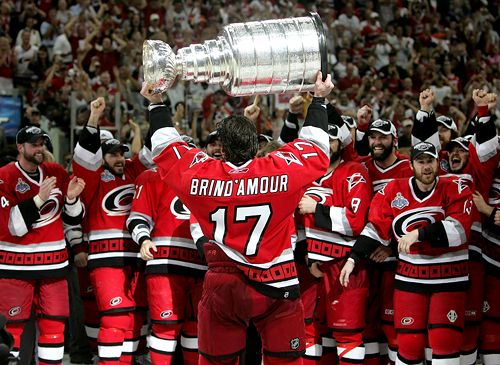 With a brand-spankin' new NHL season upon us, I have read a few of those season previews and thought...what the hell...the Steaming Blog should have one too. This preview hopes to answer the all important question, Will my favorite team win the Cup? I have created a un-scientific survey to help answer this question:
1.
Did your team qualify for the playoffs last year?
If the answer to this question is NO, then sorry, your team will not be hoisting Lord Stanley come June. This does not mean your team won't make huge strides...they make even make the play-offs....but they won't be sipping from the Cup. In the NHL play-off experience means something.
Sorry fans of the:
Isles, Lightning, Avs, Thrashers, Kings, Coyotes (never met one), Leafs, Stars, Sens, Oilers, Preds, Wild, Sabres and Panthers
. 14 down and 15 to rule out.....
2.
Does your team reside in Canada?
Recent History would suggest that if the answer to the question is YES, then the answer to "will they win the Cup" is a resounding NO! Not since the '93 Habs have a team from north of the border claimed the prize. That's 16 years my friends, meaning that a baby born in in the Spring of '93 is now driving daddy's Buick.
Sorry fans of the:
Canucks, Flames, & Habs
. 17 down and 12 to go...
3.
Has your team ever won a Cup to begin with?
I don't see it changing this year!
Sorry fans of the:
Capitals, Blue Jackets, Blues, and Sharks
. 21 down and 8 to go...
4.
Is your team a previous Cup-Winner but trending downwards due to age, losses in Free Agency, etc?
Sorry
Wings & Devils
fans but when Shanahan doesn't want to play for you anymore, you are not going to win the Cup. 23 down....
The Final 7
Hawks, Pens, Hurricanes, Rangers, Bruins, Flyers, and Ducks.....take it to the Bank that one of these 7 teams will win the Cup.
On to the rapid fire portion:
1. Did your team trade Chris Pronger in the off-season? If yes, then no cup for you...sorry
Ducks
!
2. Did your team trade a 36 goal scorer from last season without replacing him with a forward with 2 healthy nuts that can bank 40? Sorry
Bruins
!
3. Is your team relying on a goaltender who spent last season in Siberia? Sorry
Flyers
4. Did your team sign a supposed star named Marian in the offseason? Sorry
Rangers & Hawks
. Gaborik won't play 20 games for the Rangers and Hossa....hell....need I say more.
5. Did your team win the cup last year? Chances are they won't repeat. Sorry
Sidney
!
That leaves one team standing:
The Carolina Hurricanes
. The Hurricanes were a Conference Finalist last season, are just 3 years removed from winning the Cup, have Conn-Smythe caliber goaltending in Cam Ward, and have quietly improved and added depth in the off-season.
EAST
1. Capitals*
2. Bruins*
3. Flyers*
4. Penguins
5. Hurricanes
6. Rangers
7. Canadiens
8. Lightning
WEST
1. Sharks
2. Blackhawks
3. Flames
4. Red Wings
5. Canucks
6. Ducks
7. Blues
8. Blue Jackets
STANLEY CUP FINALS
HURRICANES over BLACKHAWKS